March 30 — March 31 2017 | 15:00—20:00
Get Certified Now: TenForce Admin Foundation Training
Join us for a 2 days interactive workshop designed for those customizing TenForce to match their business process, and administrators who want to gain a rich understanding of the advanced mechanics of the product.
Why should you take this training?
You will acquire the necessary skills to configure lists, build their own processes using workflows, define item fields, manage relationships, master user management, and apply specific translations. The course is structured as a mix of theory and hands-on workshop and everybody will have the chance to ask questions related to specific day-to-day scenarios.
At the end of the 2-day course, the trainees will receive a personalized certificate after passing a brief test. The certification enables them to follow the next level of TenForce training program.
Good to know: Prerequisites
The participant must be a Certified TenForce Key User or must have at least 1 year of hands-on experience
with TenForce: e.g. searching, filtering, configuring smartlists and knowing the difference between list
and smartlist.
Course schedule
Day 1: Building your business process with TenForce software
Setup lists
Define the item fields and configure their properties
Structure the item information into tabs
Manage relationships: e.g. parent-child vs item pickers
Build your own workflow with states and state transitions
Tips & tricks to optimize work speed
Day 2: Make your business process accessible to the right people
Learn the user management system to allow the right people to work on your data
Structure users using organizational units
Assign the correct roles and responsibilities using privileges
Learn to use the translation module of the application
Tips & tricks to optimize work speed
Certification test
Key trainers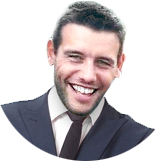 Bart Peremans
TenForce, TenForce, Project coordinator